Restautant
Our agriturismo is one of the few in the Cortona region to offer its guests the opportunity to discover authentic Tuscan cuisine. We serve classic dishes such as the famous fiorentina steak or grilled Chianina meats in our restaurant which features two country-themed dining rooms. A popular local establishment, we are open to both residents and non-residents throughout the year and we even offer a half-board or full-board option for our guests. For the summer months the restaurant has two outdoor dining areas, including a heated veranda for use in winter.
We are open everyday (excluding Mondays) between June and October, and during the winter months we are open Friday, Saturday for dinner and Sunday for both lunch and dinner. Please make a reservation during the winter months.
We offer a range of traditional Tuscan dishes, such as: chicken liver crostini, bruschetta, cured meats, ribollita (vegetable soup), fresh pastas with porcini mushrooms, lasagne, home made "pick" pasta with garlic sauce, roasted meats and the authentic fiorentina steaks – all created with simple and genuine ingredients (some of which are grown by ourselves, as our organic season vegetable). We offer local red wines from Cortona and also an extended Tuscan wine list.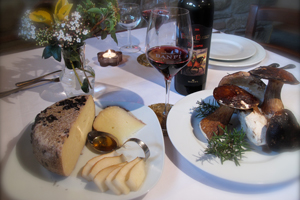 We still make our own fresh pasta including tagliatelle, lasagne, tortellini and pici (fat spaghetti). You can try the famous Tuscan soups, such as the hearty ribollita or the local bean, chickpea and buckwheat broth. Our meats are roasted in our 1940s wood-fired oven and we recommend that you try our fiorentina steak (from quality assured Chianina beef) cooked over hot coals.
In our wood-fired oven we also cook our delicious pizzas, which can be chosen from our extensive menu (or simply create your own from a wide range of toppings). For dessert, why not try our homemade tarts (such as apple, chocolate or ricotta), tiramisu, zuppa Inglese (sweet custard) or our warm cantucci biscuits dipped in Vin Santo wine.